Address

Office No. G-1, C-22, Sector-65, Noida, Uttar Pradesh 201301, INDIA

E-mail

info@vmcoder.com

Phone

+91 7827 525 258
Our Courses Overview
VM Coder is a renowned training provider that offers certification training in Social Media Marketing (SMM) to help students build a strong career in the IT industry. Their training program is designed to equip individuals with the skills and knowledge required to effectively leverage social media platforms for marketing purposes.
Here is an overview of how VM Coder provides IT-based training in Social Media Marketing:
1. Comprehensive Curriculum: VM Coder offers a well-structured and comprehensive curriculum that covers all aspects of social media marketing. The training program typically includes topics such as social media strategy development, content creation and optimization, audience targeting, campaign management, analytics, and more.
2. Industry-Experienced Instructors: VM Coder employs experienced instructors who have in-depth knowledge and practical experience in the field of social media marketing. These instructors guide students throughout the training, sharing their insights, best practices, and real-world examples to enhance the learning experience.
3. Practical Hands-On Approach: The training at VM Coder follows a practical hands-on approach. Students are provided with opportunities to work on real-world projects and case studies, allowing them to apply the concepts and techniques learned during the training. This hands-on experience helps students develop practical skills and gain confidence in their abilities.
4. Interactive Learning Environment: VM Coder promotes an interactive learning environment where students can actively participate in discussions, ask questions, and collaborate with fellow learners. This fosters a dynamic and engaging atmosphere that enhances the learning process.
5. Customized Training Solutions: VM Coder understands that every student may have different learning requirements. To cater to this, they offer customized training solutions, allowing individuals to choose the training format that suits them best. This may include options such as classroom training, online training, or a blended learning approach.
6. Certification: Upon successful completion of the Social Media Marketing training program, VM Coder provides students with a certification that validates their skills and knowledge in the field. This certification can be a valuable addition to a student's resume, showcasing their expertise to potential employers.
7. Career Support: VM Coder offers career support to its students, which may include job placement assistance, resume-building guidance, interview preparation, and networking opportunities. This additional support aims to help students kickstart their careers in the field of social media marketing.
Overall, VM Coder provides IT-based training in Social Media Marketing with a focus on practical skills, industry relevance, and individualized learning. By enrolling in their training program, students can gain the necessary expertise to excel in the field of social media marketing and build a strong career in the IT industry.
CURRICULUM & PROJECTS
Introduction to Social Media Marketing

Overview of social media platforms
Importance and benefits of social media marketing

Developing a Social Media Strategy

Defining marketing objectives
Identifying target audience and key demographics
Selecting appropriate social media platforms

Creating Engaging Content

Content planning and creation
Writing effective social media copy
Utilizing visual elements (images, videos, infographics)

Social Media Advertising

Paid advertising options on various platforms
Targeting and segmentation
Budgeting and ad management

Community Management and Engagement

Building and managing an online community
Responding to customer inquiries and feedback
Handling social media crises and negative feedback

Social Media Analytics and Reporting

Tracking and analyzing social media metrics
Tools for social media analytics
Reporting on campaign performance

Influencer Marketing

Identifying and collaborating with influencers
Negotiating partnerships and contracts
Measuring the impact of influencer campaigns

Social Media Trends and Best Practices

Staying updated with the latest social media trends
Best practices for content creation and posting
Case studies and real-world examples
Skill Development: Training programs provided by companies are designed to enhance specific skills required for the job. These programs can help individuals acquire new knowledge, improve existing skills, and stay updated with the latest industry trends.
Career Advancement: Company-sponsored training often focuses on developing employees' competencies and preparing them for career growth opportunities. By participating in training programs, individuals can enhance their qualifications, increase their value to the company, and potentially open up new avenues for promotion or better job prospects.
Increased Productivity: Well-structured training programs can improve employees' efficiency and effectiveness in their roles. By equipping individuals with the necessary knowledge and skills, companies can enhance overall productivity, leading to better performance and outcomes for both employees and the organization.
Standardization and Quality Assurance: Training programs help establish standard procedures and best practices within an organization. By ensuring that employees are trained consistently, companies can maintain quality standards across different teams and departments, leading to better outcomes, customer satisfaction, and overall operational excellence.
Personal Growth and Confidence: Training programs not only focus on professional skills but also contribute to personal growth. Employees gain confidence, expand their knowledge base, and develop a broader perspective through exposure to new ideas and experiences. This personal growth can have positive effects on both professional and personal aspects of their lives.
Training helps in to grow your career.
Have any Questions?
Call us Today!
Google Review
Google Reviews Of
VM Coder Technology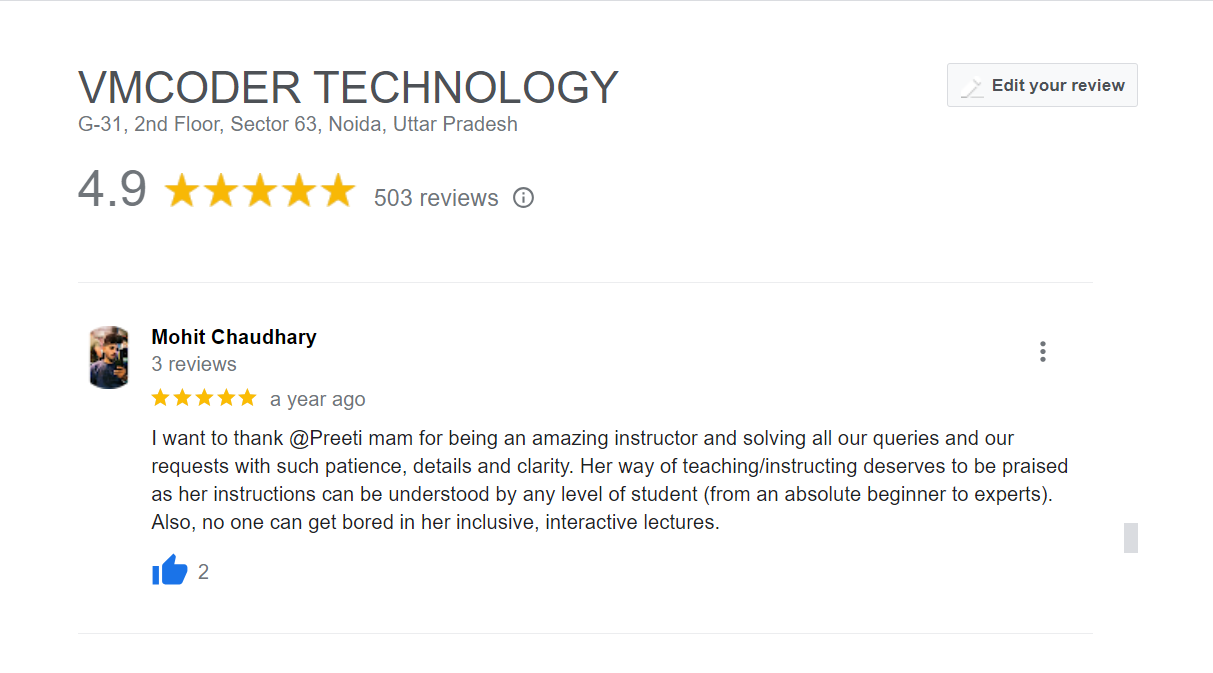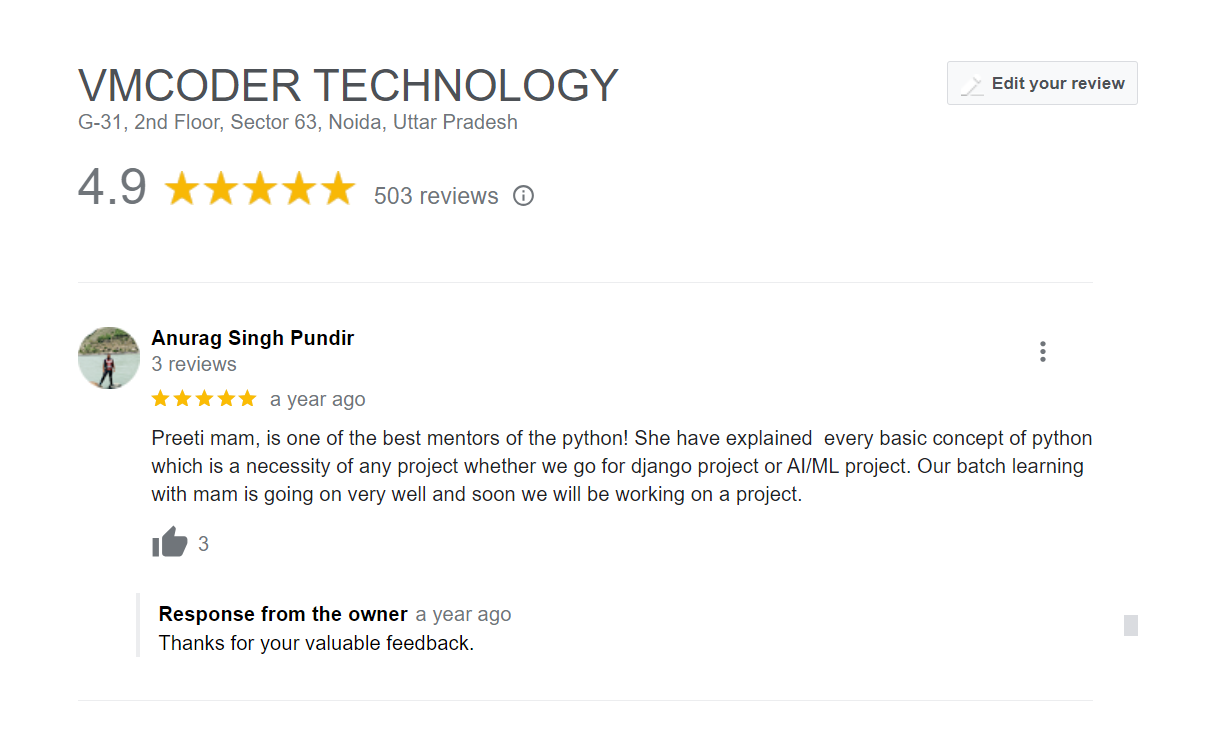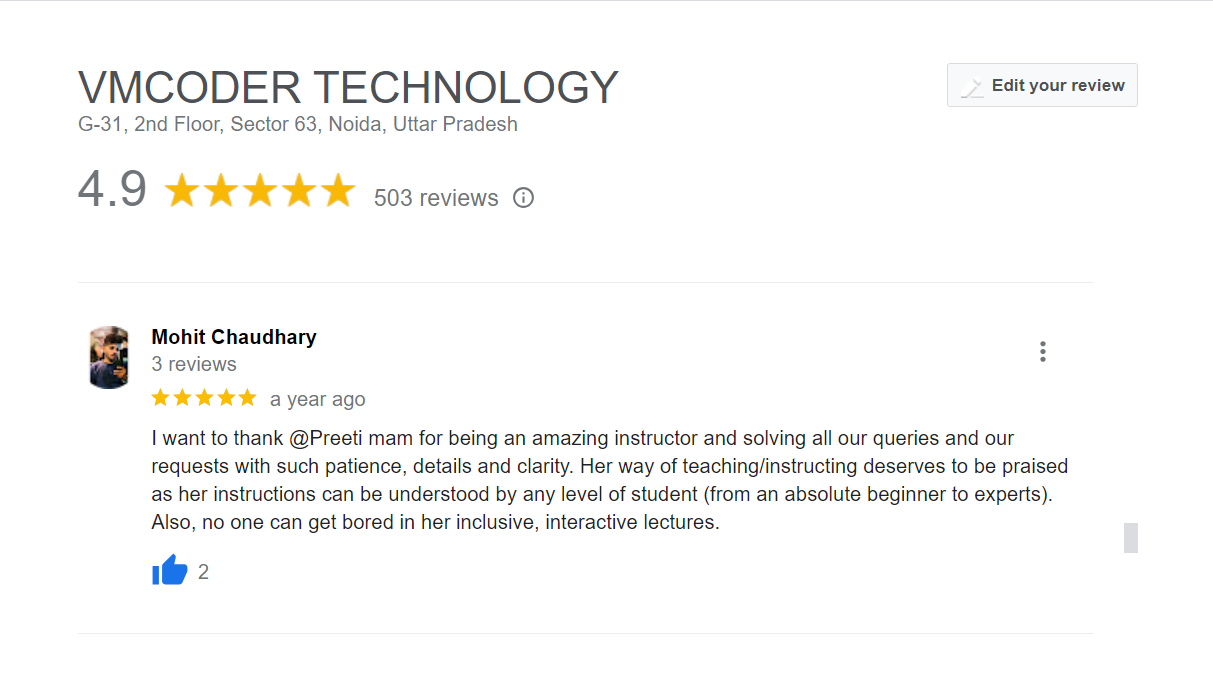 Obtain Your Accreditation
Certify Your Skills and Boost Your Career with Our Training Programs!
Showcase Your Accomplishments
Celebrate Our Remarkable Achievements in IT Training and Innovation!
Process
Placement Support
Career Advisor
Mock Interviews
Coding Quiz
Personality Development
Testimonial
What Saying Our Interns

In a rapidly evolving digital landscape, cybersecurity is of paramount importance to businesses of all sizes. As we step into 2023, the threat landscape continue

In the fast-paced digital world, web designing plays a pivotal role in creating compelling